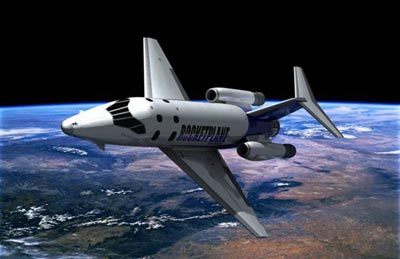 Rocketplane Global has been barely hanging on the last couple of years since its orbital counterpart, Rocketplane Global, lost its NASA COTS award and the financial crisis dried up the investment market. The company, in particular vice president Chuck Lauer, has been out there trying to drum up support for a variety of opportunities, from flights in Hawaii to, at the Space Access '10 conference three months ago, a venture to use Florida's Cecil Field for suborbital flights as part of a broader tourist attraction. However, time has run out for the company.
The Oklahoma Gazette reported today that Rocketplane, including its Rocketplane Global and Kistler subsidiaries, filed for Chapter 7 bankruptcy protection last month in Wisconsin, where the company was operating from after giving up its Oklahoma facilities. Unlike Chapter 11 bankruptcy, where the company can reorganize, Chapter 7 involves the liquidation of assets. Whatever is left of Rocketplane will be sold off to cover those debts.
According to the bankruptcy filings, linked to at the end of the Gazette article, Rocketplane Kistler has $108,250 in assets, primarily tooling and some components for the K-1 vehicle, and over $7.36 million in liabilities. (The filing notes a number of "aerospace patents" dating back to the original Kistler Aerospace, but puts no value on them.) Rocketplane Kistler claims $275,000 in assets, in the form of four used GE F-85 jet engines, as well as unvalued patents versus over $2.56 million in liabilities. The parent company, Rocketplane, declared no assets in its filing but nearly $3.7 million in liabilities. (Also included in the documents is a bankruptcy filing by Rocketplane owner George French, although he is also listed as a creditor in some of the company filings.)
"We did what we said we could do. Unfortunately, we did not complete the program as originally conceived," French told the Gazette, in something of an understatement. The long saga of Rocketplane, which stretches back to the mid-1990s with the founding of Pioneer Rocketplane by Lauer, Mitchell Burnside Clapp, and Robert Zubrin, has come to an end.